The 2014 Nissan Rogue Reviews are Glowing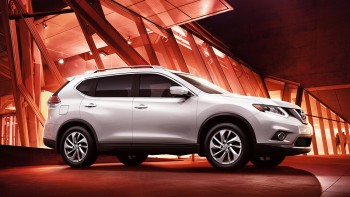 The perennially popular Nissan Rogue has received some thoughtful updates for the 2014 model year. Now that all the major critics have had a chance to put the 2014 Nissan Rogue compact crossover through the wringer, it's safe to say that this is a stellar build. These critics know the auto market better than just about anyone else, and the 2014 Nissan Rogue reviews have been overwhelmingly positive. Here at Knight Nissan in Swift Current, SK, we have pulled out some quotes to help you understand what the experts liked best.
Edmunds
Edmunds happily noted that "Nissan added an optional third-row seat, a particularly shrewd move given that the Toyota RAV4 no longer offers one. Remarkably, all of this was accomplished without major increases to the Rogue's overall size or weight." That's right, the 2014 Nissan Rogue is one of the only vehicles in this class to offer a third row of seating. If you need a crossover that can accommodate passengers and cargo with equal ease, look no further.
Auto Blog
Auto Blog writes, "It doesn't completely rewrite the compact crossover formula, but it doesn't need to. Everything the Rogue does, it does well, and it's a far better offering than the model it replaces." This is a sentiment that a lot of critics have echoed, though we happened to like last year's Rogue quite a bit, and so did many drivers in the Regina area. But it highlights something that has always been true about this model — it doesn't try to stand out by doing one thing exceptionally, it distinguishes itself by being well-rounded and having consistent levels of quality across the board.
Road and Track
Road and Track hailed the 2014 Rogue, writing that, "Nissan has finally given the Rogue the teeth it needs to be competitive in the face of segment giants like the Honda CR-V and Toyota RAV4. For 2014, the Rogue brings an all-new exterior design, a more refined cabin, and a spate of tech wizardry to the fight. It's enough to move the CUV from back-of-the-pack obscurity to the front of the class." Its true that a lot has been upgraded for the 2014 model, from the engine, to the interior, to the styling. If you had never considered a Rogue before, look at this rising model first rather than old standbys that grew stale long ago.
Experience the 2014 Nissan Rogue at Knight Nissan
As you can see, the critics have found a lot to like about the 2014 Nissan Rogue, giving it great reviews. To see if this model lives up to the hype, visit Knight Nissan in Swift Current, SK and take one out for a test drive.